Consistently more than half of new immigrants come to Canada through the Economic Class, new federal government figures show.
But the number and proportion of new permanent residents in the Economic Class has shrunk since 2015.
Instead it is the Family and Refugee categories that have seen their numbers grow, although the Refugee data is skewed by the drive to bring in thousands of Syrians in 2016.
It means that while the federal government is clear in its intention to welcome more and more Economic Class immigrants, it is also making good on its promise to reunite more families.
---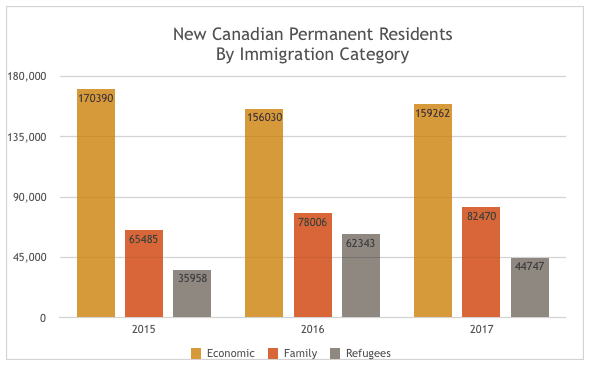 ---
The Economic Class numbers indicate how the move to Express Entry has been managed by the federal government.
When the system was introduced in 2015, officials did not know how the number of Invitations to Apply it issued for permanent residents would translate into people arriving in Canada.
Now they have three years of data in hand, with regular draw sizes increasing and the size of the Economic Class continuing to increase under the latest immigration levels plan.
In 2016, the drive to welcome Syrian refugees also meant fewer Economic Class immigrants could be accepted.
---
Read More
Quality Over Quantity For Nova Scotia With Atlantic Immigration Pilot
Well Over Half A Million Jobs Available In Canada
SMEs Look To Immigrant Skilled Workers To Solve Labour Shortage
---
The Economic Class dropped from 63 per cent of the 2015 total to 53 per cent in 2016, while the Refugee Class proportion jumped from 13 per cent to 21 per cent respectively.
The breakdown reveals how Canada has to work hard to achieve planned immigration levels.
Both 2016 and 2017 saw a target of 300,000 new immigrants, with real figures showing 296,379 and 286,479 new permanent residents actually landed.
The levels plan for 2018 shows a target of 310,000 new immigrants, including 177,500 in the Economic Class, 86,000 in the Family Class and 46,500 Refugees and Humanitarian Class newcomers.
It means that increases will be seen in every category if the planned levels become a reality.
---
Canada's 2018 Immigration Levels Plan
| | |
| --- | --- |
| Category | Target |
| Economic | 177,500 |
| Family | 86,000 |
| Refugees | 43,000 |
| Humanitarian | 3,500 |
| Total | 310,000 |