New figures from Statistics Canada show 562,900 job vacancies recorded in the third quarter of 2019, up 2.2 percent in the same period of 2018.
While the number of Canada job vacancies rose by 12,200 on a year-over-year basis, the figure dropped by 18,700 compared to the previous quarter of 2019.
The year-over-year increase was at the slowest pace seen since the third quarter of 2016.
---
---
Significant vacancy increases were seen in Quebec, Nova Scotia, Newfoundland and Yukon, while the biggest decreases were seen in Alberta, Prince Edward Island and British Columbia.
The retail trade and health care sectors saw the biggest increases in vacancies, while manufacturing and warehousing saw declines.
---
We Can Help You Find A Job In Canada
At immigration.ca we offer our international clients top to bottom assistance in both immigration and employment. We provide individual clients with extensive legal counsel drawing on more than 60 years of in-house combined professional experience.
For employment, we give all our individual clients a comprehensive job search service through our in-house recruitment enterprises, https://skilledworker.com and www.grnmontreal.com.
---
Newfoundland reported a 20.4 percent year-on-year increase in job vacancies in the third quarter, equating to 800 jobs. This was the province's sixth consecutive quarter of year-on-year growth.
In Nova Scotia, meanwhile, the number of job vacancies was up 16.2 percent or 1,900 positions. Increases were concentrated in retail trade and health care and social assistance.
Quebec also saw vacancies rise by 16.2 percent, equating to 19,100 jobs in the French-speaking province.
Quebec vacancy increases were spread across several industries, with nearly half accounted for by retail trade and health care and social assistance.
Alberta and British Columbia, meanwhile, both saw significant declines, of 10 percent (5,900 jobs) and 3.9 percent (4,300 jobs) respectively.
---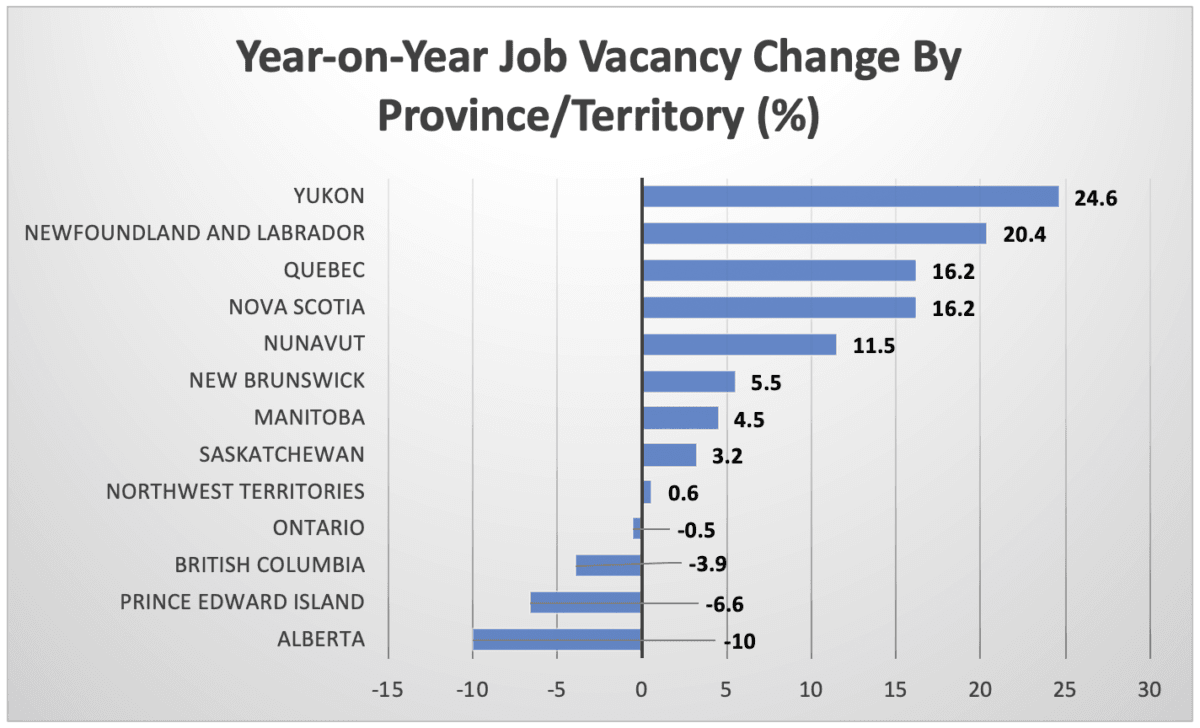 ---
Job Vacancies By Industry
Overall, the retail trade sector saw an additional 9,400 vacancies compared to a year earlier. These include jobs at motor vehicles and parts dealers, food and beverage stores, and building material and garden equipment and supplies dealers.
The health care and social assistance sector saw an additional 2,800 vacancies, driven by increases in Quebec.
---
Read More
Calling Foreign Skilled Workers: This Quebec Industry Has 20,000 Vacancies
Quebec Leads As Job Vacancies Increase In Every Canadian Province
Employers Fill 300 Vacancies On Quebec's Morocco Recruitment Drive
---
Vacancy declines were seen in manufacturing (-3,100) and transportation and warehousing (-4,200).
Meanwhile, employers reported using social media to recruit for more than half of all vacancies in the third quarter, up from one-third in the same quarter of 2015.