As some of the highest paid technology workers in Canada, IT project managers are sought-after by Canadian employers.
They are important staff members who oversee major IT projects that can make a major difference to a company's bottom line.
As such, those with experience are set to earn significant salaries.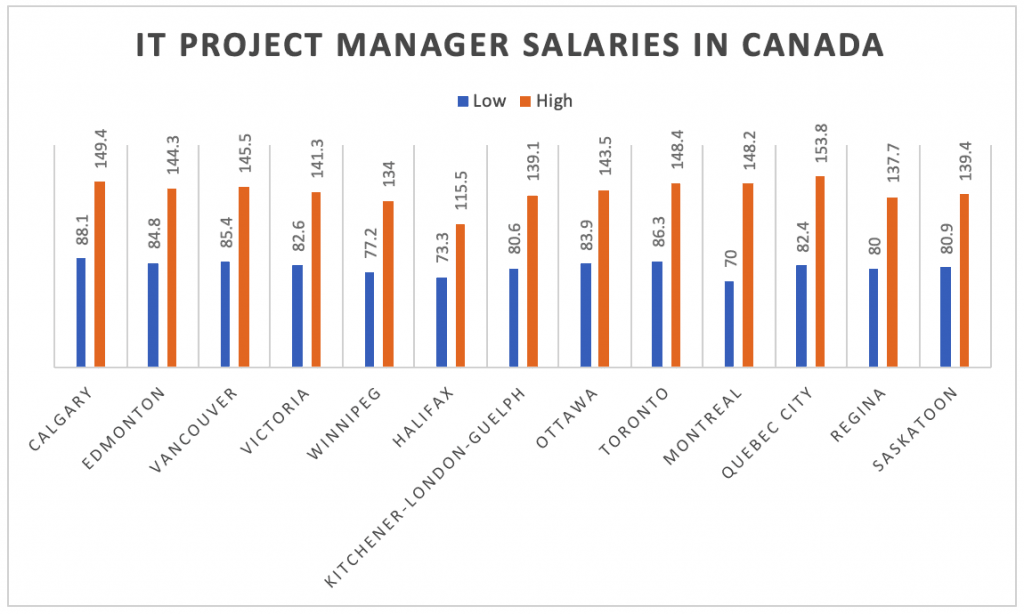 It may come as a surprise that the latest data shows the highest salaries are available in Quebec City.
Here, the best IT project managers can take home nearly $154,000 per year. Quebec City is the only city when salaries reach more the $150,000.
However, for entry-level IT project managers, Quebec City is not the place to be.
In Calgary, IT project manager salaries start at $88,100, making the Alberta city the best for those start out in the job.
---
What Are Canada's Key Technology Occupations?
---
Toronto, Vancouver and Edmonton are also good for entry level IT project managers, with initial salaries ranging from $84,800 to $86,300.
However, much of this might be splitting hairs. The important message is that IT project managers make good money in Canada. And Canada needs IT project managers.
If you are a foreign skilled worker considering your options, this would be a great one to go for.
How We Can Help IT Project Managers Move To Canada
At immigration.ca we offer our international clients top to bottom assistance in both immigration and employment.  We provide individual clients with extensive legal counsel drawing on our more than 60 years of in-house combined professional experience.
For employment, we give all our individual clients a comprehensive job search service through our in-house recruitment enterprises, www.skilledworker.com and www.grnmontreal.com.
We will empower you on how to raise your profile including your CRS score in the Express Entry Pool.
We do this by giving our clients extensive contacts to 500 Canadian employers, conducting a comprehensive job search which includes a live face-to-face tutorial on how to harness the power of LinkedIn, and revising their digital, online profiles to maximise their hiring opportunities.
In short, we teach you how to find a job in Canada from overseas.
How We Can Employers Looking To Hire IT Project Managers
If you are an employer looking to recruit foreign talent from abroad, immigration.ca can help. Access our expertise through our in-house recruitment enterprises, www.grnmontreal.com and our newest asset, www.skilledworker.com, "the leader in foreign recruitment".
From technology workers in British Columbia, Ontario and Quebec, Long-haul truck drivers in the Prairies and doctors in Nova Scotia we are able and ready to help with your search for the right staff to get your business grow.